All orders are shipped for FREE WORLDWIDE
 All custom made shirts and suits will normally arrive within 3-4 weeks.
Delivery Confirmation: You will receive confirmation of your order once the checkout process is complete.
Undelivered Goods: if any part part of your order is not delivered please contact us within 7 days and we will investigate the cause. If the goods are confirmed to have been shipped and processed correctly, then we will contact the postal service, to investigate further. If the goods are lost in the mail, you will receive a full refund within 45 days.
We're Here To Help: if you have any concerns about the delivery of your products please contact us and we will be happy to help.
---
Payment methods:

Paying with moneybookers.com:
We are very happy to offer you a new and simple way to pay using your bank account or LaserCard/Debit Card via Moneybookers.com - now with over 2 million frequent users. Other major online businesses that use Moneybookers include Skype.com (the leading online telephony service), 888.com (the world's learing online casino) and PartyPoker.com (the number one poker site worldwide):
Step 1: Open your free moneybookers.com account – all you require is an email address
Step 2: Upload funds to your account via bank transfer, credit card, debit card, lasercard or cheque. This can be done from all European countries, and over 25 countries worldwide!
Step 3: Return to our store, and add products to your shopping cart.
Then proceed to the checkout, and choose moneybookers as your payment method.
You will then be presented with the secure moneybookers payment page, where you can complete your purchase.
Payment is received instantly in our account, and we will ship out your products immediately.
---

Paying by Credit Card or PayPal:
You've seen PayPal at eBay and scores of other leading online merchants - and now we are accepting paypal payments also. With over 56 million users, PayPal is the secure credit card processor of choice, and is integrated seamlessly with this online store, to allow instant credit card payments. You can also check-out using the PayPal system, without creating a PayPal account if you like!
PayPal is one of the safest, most widely accepted ways to pay for your purchases on the Internet. It lets you use funds from either your bank account (depends on country) or credit card; and you can use it with confidence: your transactions are protected by PayPal's sophisticated fraud prevention system.
Your card details are not disclosed by PayPal - we simply receive the payment to our online account, whilst your card details remain private. This ensures maximum security and customer confidence, ensuring a safe online shopping experience.
All you need is a PayPal account to get started. Don't have one yet? It's fast and easy to set up; in fact, you can do it while you complete your purchase here. When you proceed to checkout, choose the PayPal payment option, and you are presented with PayPal's secure payment page.
Here you can use your existing account or create a new one.
When you have completed your transaction, click "Continue" to return to our site and finish checking out. That's it. Using PayPal is really that easy!
---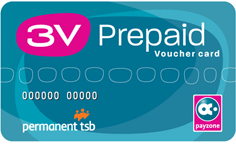 Temporary Credit Cards to Shop Online!
For Irish customers without a credit card, you can now purchase a 3V Voucher (disposable visa debit card) at many local shops around Ireland, and use it to shop online here (using the paypal payment system).
It is issued by permanent tsb in association with VISA. No credit checks, no application forms and no bank references are required! No stamp duty or interest charges! And because our dispatchment warehouse is located within the Eurozone, there is no commission charge of 1.75% on your transactions!
Register online for a 3V Prepaid Voucher Card now, and pick up your temporary visa number at shops around the country.
---
Billing data:
If you pay by credit card, your statement will read "PAYPAL ECOMMERCE".
Payments by bank account will just show, as "MONEYBOOKERS", when you transfer the money to your online moneybookers wallet.